For fifty years, the policy of the United States was to permit Cubans convicted of deportable crimes to remain in the United States. This policy is coming under review and may be reversed. The United States has not deported Cuban nationals from the United States and the Cuban government has refused to accept their citizens who would be subjected to removal.
Alejandro Mayuorkas, the deputy secretary of the United States Department of Homeland Security has publicly stated that the issue will be discussed with Cuban authorities in the context of negotiations to normalize relations between the United States and Cuba. Of the approximately 34,500 Cubans who have been convicted of crimes which subject them to deportation, the overwhelming majority have not filed legal papers to stop their removal; assuming that their special status will not be modified.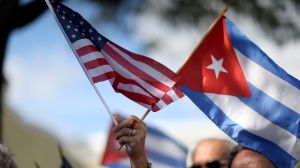 Immigration lawyers throughout the United States, and particularly in Miami, where the largest number of Cubans subject to deportation reside, have been swamped with calls for help. Because those who have been issued deportation orders in past years have not elected to fight those removal orders in Federal Court they may have lost the right to object to their removal. As a result of their confused legal status: ordered to be removed but not removable due to U.S. policy, those individuals ordered to be removed may face removal in the coming year or two.