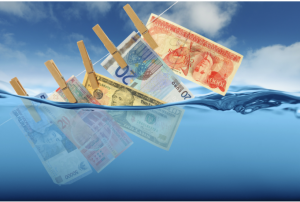 One of America's most- loved and most-hated comedians and actors, Woody Allen, once said, "if you can't do it, teach it."  OK…to prove it is true, again, the US Attorney from New York indicted a Miami professor on money laundering. Professor Bruce Bagley, a professor of international studies, wrote books on money laundering and then lived it in Miami, and, soon likely in federal prison.
Maybe you read Professor Bruce Bagley's book on drug trafficking, money laundering, and organized crime?  I know his book 'DRUG TRAFFICKING ORGANIZED CRIME AND VIOLENCE IN THE AMERICAS TODAY" is on my must-read list (when I need a good nights' sleep).  The federal prosecutor's office in New York must have read it because it's in their press release on the indictment.
The federal criminal indictment was such a good-read that the professor pleads guilty to the federal charges before Federal Judge Rakoff.  Sentencing is next, and the sentencing guidelines have a long stay in federal prison as a future address for this recently minted money laundering defendant. You can learn more information on sentencing guidelines by clicking on the link below.
https://www.ralphbehr.net/lawyer-attorney-FE3EE6EE-4A7A-4048-8534E43FC1FC9A60.html
Professor Bagley of Coral Gables Florida (a part of Miami Florida's district) pled and was found guilty in federal court of money laundering. Each count carries a twenty-year sentence in federal prison.  We'll be there when the federal judge holds a sentencing hearing in New York Federal Court on October 1, 2020.
The federal criminal indictment in New York charges two counts of money laundering.  The federal charges allege that the Miami professor opened two bank accounts in Miami in the name of his consulting company and his personal account.  Then, as the indictment alleges, over two million dollars of proceeds of money from bribery crimes in Venezuela were deposited.  The deposit is the first step in money laundering.  For some information on money laundering go to:
https://www.ralphbehr.net/money-laundering-a-primer.html
The federal criminal indictment goes on to tell a great story of crime, intrigue, and money laundering…. It alleges that between November 2017 and October 2018, our money laundering professor received monthly deposits of approximately $200,000 from Switzerland and the United Arab Emirates into the bank account of his "consulting" company he had created, according to court documents.
The professor would then withdraw approximately 90 percent of the funds in the account in the form of cashier's check, payable to an account held by another individual. According to the Miami Herald, that individual is a Colombian businessman.  Legal sources also suggest that some other nationals from Latin America with ties with President Maduro, some of whom reside in Miami, are involved directly or indirectly with this money laundry scheme.
This may suggest that others will be federally indicted here in Miami, Florida, or New York soon, perhaps in 2021?
More to come in future updates.  For now, keep tuned and watch for news from Miami federal criminal district.