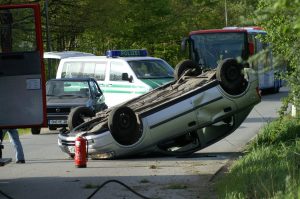 According to the Florida Sun Sentinel, four Personal Injury attorneys were arrested on September 6 and charged with organized crime, money laundering, and brokering. The attorneys hired other people to appeal to victims of car accidents and then would receive "kick backs" from the doctors who they referred the victims to for medical treatment. The police also arrested six other people who were involved with the attorney's "kick back" scam as well.  One of the attorneys was from Boca Raton and other three from Fort Lauderdale and they have all been released on bond.  According to investigators, they received $521,070.00 in "kick backs" from May 2015 to December 2016.  Now the attorneys are all waiting to go to trial.
Per Florida Statue 817.505 on Fraudulent Practices and the Florida Patient Brokering Act, it is unlawful for any person, including health care providers or facilities, to offer or pay, benefit, rebate, kickback, receive or give any form of compensation in exchange for referrals, regardless of the form of payment for the service or product. This Statue and Act were passed by the Florida Legislators after discovering that many mental health and substance abuse hospitals were making payments to individuals for the referral of patients identified in Alcoholics Anonymous meetings, homeless shelters, and other similar environments.  The medical facilities would come to an agreement with the patient brokers whose task was to evaluate patients at these facilities and determine if they had insurance. Then the patient broker would refer the patient to one of those medical facilities and in return receive some form of payment.
The Florida Sun Sentinel explains that patients were brokered to the health facilities, those facilities would begin to bill the auto insurance companies for claims that were covered by PIP benefits, which also resulted in fraud for the insurance companies.  It gets worse… One of the attorneys is also being accused of embezzling his client's settlement funds, meaning that he was also taking half of his client's settlement checks.  The attorney would give his clients their settlement checks, pay the high medical bills, and in return he received cash payments in half the amount of the amount written on the original settlement checks.
Three of the attorneys are each facing over 12 felony charges of organized fraud, insurance fraud, illegal interception of communication and fraudulent patient brokering, money laundering, and violating patient brokering laws. One of the attorneys is only facing 3 charges of the same illegal acts as the other three attorneys.
Activity like "kick backs" are not only banned by the Florida and American Bar Association, but it is illegal by both State and Federal law.  According to the government, the reason activities such as these are illegal is because it takes away choice from US citizens. The government explains that by approaching a person in the middle of a situation like a car accident, where they are most likely panicking, is taking advantage of them and it prohibits them from clearly thinking and deciding on their own.  The health care facilities are still waiting to see what form of action the government is going to take regarding their involvements in these crimes.