Prosecutors have charged "Suge" Knight with one count of Murder and one count of attempted Murder. Reportedly he drove his vehicle at and killed a business associate and nearly killed another man. All this took place in a parking lot in Compton, California.
Authorities at first considered the act as a hit-and-run: it was and is re-filed as murder and attempted murder. The charges were filed against Knight, the owner of Death Row Records, a prominent rap artist promoter and producer. Marion "Suge" Knight was out on bail at that time on felony robbery charges in Los Angeles. Many of you know Suge Knight from his professional football career of twenty-five years ago. Since leaving professional football Mr. Knight (age 49) has been in and out of prison, shot six times last summer and has pending robbery charges.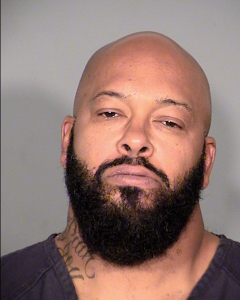 His lawyers have provided authorities with copies of a video recording of the events, which took place in a "burger" restaurant parking lot. Knight's lawyers said the video showed that Knight was trying to escape an attack. Authorities, after reviewing the tape, indicated that the video shows him deliberately driving his car over the two men, killing one of the two. Knight faces a prison term of 50 years to life in California under the State's three-strikes-and-you're-out Statute. Details of the event indicate that Suge Knight was on a movie set for the movie "STRAIGHT OUTTTA COMPTON" when the events occurred.   Knight's lawyer, Mr. James Blatt said that Knight "accidentally" ran over the two men, killing one of them, as he (Knight) was trying to escape a "vicious attack."
Authorities have released the name of the man who died as Terry Carter (age 55) and the injured man is reported to be Mr. Cle "Bone" Sloan (age 51). Details, which are not confirmed, are that after visiting the movie location (Straight Outta Compton), which is a film about the rise of N.W.A., a rap group, the men argued. Sheriff deputies who were there providing security, told Knight to leave. The men got together again in a nearby parking lot and the dispute resumed.  Reportedly punches were exchanged through a window of his pickup truck. Then, as the unconfirmed reports continue, Knight drove his pickup truck at the men, killing one and injuring the other.
Attorney Blatt disputes this report of the events. According to Blatt a group of people tried to kill Knight and were in the process of pulling him out of his pick-up truck when he regained control of his vehicle and ran over the two men while trying to escape the attack. The incident was originally handled by authorities as a hit and run case and Knight was issued bail of $2.05 million dollars. However, once his status as being out on bond for a robbery (involving a camera he took from a photographer who was taking photos of him last November in Los Angeles) was reviewed, and the charges re-filed as murder and attempted murder, authorities moved in court to have Knight remanded into custody without the opportunity to be released on bond. The reasons cited by the prosecutor's office were his status as a convicted felon, the fact that the new charges arose while he was on bond for an unrelated felony charge, his ability to flee the jurisdiction and that he may try to tamper with evidence or witnesses in an effort to obstruct the government's case against him.