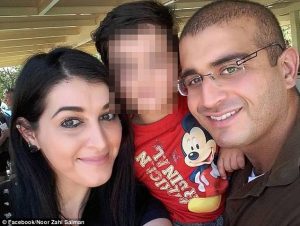 Noor Zahi Salman, (the second and current wife of the Orlando shooter, Omar Mateen),  told the FBI she knew of Mateen's plan for a mass murder shooting, accompanied him to scout out potential targets, went with him to the Pulse Club in Orlando, and accompanied him to buy a holster and ammunition.
Is that enough to charge Mateen's wife as aiding and abetting the murders?  Can the law support a conviction?  Is arresting her a public relations issue or a law enforcement issue? These are all questions that investigators will be looking to answer in the next few days.
Decide for yourself. But first understand the law.  Aiding and abetting means "assisting in the commission of someone else's crime."  According to 18 U.S. Code § 2, Salman, if convicted of aiding and abetting, could be punished as a principal.