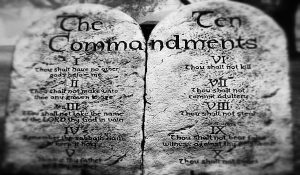 THE TEN COMMANDMENTS OF FEDERAL SENTENCING
FIRST COMMANDMENT
"THOU SHALT HAVE NO OTHER JUDGES BEFORE ME"
"Thou shalt love and Honor Thy Judge with all thine heart, and with all thy soul, and with all thy oral argument."  A blessing is a Sentencing Judge whom knowest and desires what is best for your Client.  Thou shalt not commit the sin of speaking dicta from any other Judge before Him in your oral argument.  To so Speaketh doth hinder your judge's ability to bless your Client with a Variance.  Your Judge knoweth that a Variance alone can save your client; nothing else has that power.  Of your Judge you shall worship upon His/Her thinking first.
SECOND COMMANDMENT
"THOU SHALT NOT MAKE ANY GRAVEN ARGUMENTS TO THY JUDGE"
Bear not a likeness of anything that is not in the heaven of Loadstar cases above or sentencing law below.  Nor any likeness of anything that is not in the Presentence Report or that is not in the Guidelines beneath. To not so speaketh of that which is in the Loadstar waters and thoust client shall be as dust to the wind in a Federal Detention Center and shall not reside in a Federal Camp nor in Home Detention nor Probation. Thou shalt bow down thyself before thy Judge and serve him Sentencing Commission statistics, Sentencing Commission Comments and Sentencing Commission Studies and the fruits thereof. Nothing more nor less.
THIRD COMMANDMENT:
"THOU SHALT NOT TAKE THE  SENTENCING GUIDELINES IN VAIN"
Know Well the Loadstars and caselaw from your district that show the path for your Judge to leave the safety of the Presentence Report and its homage to the recommended Guidelines Sentence.  A Departure is a blessing and a Variance is a Miracle.  Speaking the prayer for a Variance before thy Judge shall be an abomination in his eyes without a pocket full of Loadstar.
FOURTH COMMANDMENT:
"REMEMBER THE PRESENTENCE REPORT FOR IT IS HOLY"
Knoweth by heart the words of your Presentence Report for it is holy.  Of the days ordained by Rule shalt thou labour, and do all thy work between Submission to the Court of the Presentence Report and your Objections to the Presentence Report.  But the seventh day is the sabbath of the Lord thy God.  God sayeth to you to set aside one day a week to worship and rest.  The Sabbath is an opportunity to withdraw from worldly pursuits and focus on your SENTENCING MEMORANDUM.  Spiritual growth and observing the Sabbath is a sign to the Judge that you remember and love thy Judge.
FIFTH COMMANDMENT
"HONOR THY PROBATION OFFICER FOR OFTEN HE HATH THE EAR OF YOUR JUDGE"
Seek and speak thy prayer that the days of your client may be not long upon the land of A federal detention facility or a federal camp which the Lord thy God and your Federal Judge may giveth thy client.  Prayer that He/She may dwell in the land of home confinement or probation, thou shalt honor your in-court probation officer for He/She speaketh last upon and in the ear of your judge before the judge enters the courtroom.
SIXTH COMMANDMENT
"THOU SHALT NOT BEG"
Do not commit the sin of begging for leniency in the name of no prior convictions, good deeds or good character.  Alas you want not to hear before pronouncement of Sentence the A.U.S.A. speaketh thus: "Counsel knows full well that the Guidelines factor-in acceptance of responsibility, and the defendant has cooperated with the government and has no prior convictions."  FOR THY CLIENT MAY NOT REPENT OR RECOVER FROM SUCH WORDS.
SEVENTH COMMANDMENT
"THOU SHALT NOT COMMIT THE SIN OF FALSE FACT"
Of the first instructions that God and Judges intoned and gave Adam and Eve was not to dispute stipulated facts as contained in the Indictment or Information, the Letter agreed upon between the Prosecutor's office and your client, the transcript of your plea hearing or the Presentence Report.  And thou shall cleave unto the INDICTMENT and they shall be one flesh.  When a Defendant's counsel is faithful to the above, he shall have an ear that is open and a Judicial mind that is in search of a lawful sentence as bequeathed by section 3553(a).
EIGHTH COMMANDMENT
"THOU SHALT NOT BY STEALTH ARGUE CASELAW FROM ANOTHER DISTRICT"
Honor this commandment for it encompeth more than the focus of case law and dicta shall be at all times that of your Judge, your District or your Court of Appeal.  Wandering off to the 9th is as a curse.  Yea, California is a land of Democrats, Liberal Judges and is as a blaspheme in ANY FEDERAL COURT NOT IN CALIFORNIA.
NINTH COMMANDMENT
                               "THOU SHALT NOT BEAR FALSE WITNESS AGAINST THY                                      ASSISTANT UNITED STATES ATTORNEY
Speak the truth as contained in your Plea Agreement Letter, your Plea Colloquy and the report of the Case Agent.  Wherefore thou shalt put away lying.  Speak every man truth as it is known and stipulated upon by thy Assistant United States Attorney.  For his or her wrath shall be visited upon thy client as a plague from the heavens at sentencing should thou distort fact or commit the sin of misstatement.
TENTH COMMANDMENT
            "THOU SHALT NOT COVET THE WORD OF ANOTHER JUDGE IN YOUR            COURTHOUSE AT SENTENCING "
"Anything that is thy neighbor's sentence is not yours."  A person who covets or so desires a thing excessively a Variance is cursed without a Loadstar argument and caselaw and its progeny in THY APPELLATE DISTRICT.  Coveting a Departure or a Variance is not a sin, but a bespoken prayer for a Variance without a Loadstar case shall be a curse upon thy client and shall be the doom of same.  "Let your conversation with the Judge be without covetousness but it shall be of Loadstars, Variances and Sentencing Guidelines Commission Statistics"  and be content with such things as ye have for oft thy Judge hath said, "I will never leave thee O Guidelines nor forsake thee without a path of caselaw, statistics and Comments from the Holy-of-Holies the Sentencing Guidelines Commission of the sacred City of Washington, D,C."