The Office of the United States Attorney for the Southern District of Florida opened a Grand Jury indictment on October 10, 2014 and made a new arrest in the Rothstein scam. A now "former" regional vice president of TD Bank, Mr. Frank Spinosa, age 53, was charged in Federal Court with wire fraud and conspiracy. Released on $250,000 bond with an electronic monitor, his attorney Samuel Rabin, negotiated terms of release for his client at the initial appearance hearing held before the US Federal Magistrate in Fort Lauderdale.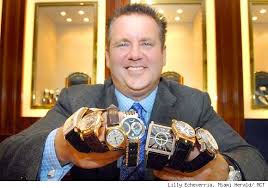 Arraignment has been set for October 24, 2014. The investigation was known to Mr. Spinosa for several years, his attorney stated. The Grand Jury Indictment was unsealed on Friday morning, October 10, 2014, and comes within days of the deadline set by law for arrests in this ongoing case. The indictment of Mr. Spinosa contains charges that can result in a maximum penalty of well over twenty years in federal prison and fines of over $250,000.00. Because each of the five counts can resolve with a twenty year sentence, Mr. Spinosa is facing a possible one hundred years in prison. Scott Rothstein was sentenced to fifty years and is currently serving his sentence at an unknown federal detention facility.
The charges against Mr. Spinosa allege that Spinosa committed fraud by giving a "false sense of security" to potential and actual investors. The indictment goes on to state that as a result of the alleged inducements, hundreds of millions of dollars were invested in Rothstein's investment scam. Spinosa was fired by TD Bank in October 2009 when the Rothstein scam first came to the attention of the public.
The indictment alleges that Spinosa signed letters known in the financial sector as "lock letters." Lock letters from banks are the bank's assurance that money is being "locked" and held separate and apart from other funds for the limited and specific purpose of remission to the beneficiary of the "lock letter." This assurance, fraudulently relied upon by investors, created the false belief that their invested funds were held separate and apart from other funds and was in effect guaranteed by the bank as segregated and safe. This "guarantee" assures investors that their money is never mixed with other monies and is safe from claims and transfers to others.   Based on these "lock letters" investors sent funds to Rothstein, money which was neither "locked" nor segregated. These funds were allegedly diverted for Rothstein's personal use and spent on such things as jewelry, watches, expensive cars, boats, houses, and lifestyle excesses of historic proportion.
Rothstein has testified in deposition that Mr. Spinosa lied when he wrote "lock letters." Rothstein testified further that Spinosa "looked the other way" when it came to suspicious and wrongful banking transfers. Further, that Spinosa acted with full awareness and knowledge both of the wrongfulness of his acts and their criminality. Rothstein testified in depositions, and prosecutors alleged, that Spinosa had "talking points" or scripts that he read to investors which were prepared by Rothstein and that Spinosa participated in conference calls in which investors were defrauded.