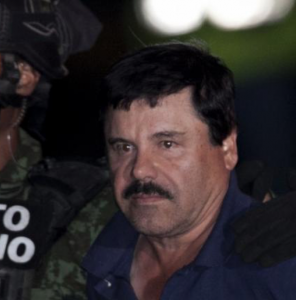 NARCOTICS SMUGGLING HIGHLIGHTED IN THE EL CHAPO TRIAL IN FEDERAL COURT IN NEW YORK
The federal trial in New York of reputed Mexican drug kingpin Joaquin Guzman Lorea, best known in the public eye as El Chapo, has, for many, brought focus on what is new and upsetting information about the efficacy of border searches and the proposed border wall. Testimony about the method and manner in which narcotics were smuggled into the United States has upset major public information sources from CNN to Fox News, and as well to our president Donald Trump.
The persistent and repeated testimony of drug smugglers has provided examples of how massive amounts of narcotics are brought into the United States across from Mexico without difficulty. It repeatedly shows that a wall would have no deterrent effect for professional and skilled narcotics traffickers. They move their drugs through the border protected areas through inspections under the very watchful eye of border patrol agents. It was in cooking oil tractor-trailers, it was in bales of flowers flown into Kennedy Airport, it was brought in as presidential emblems made in Mexico City for the inauguration. It was in plastic bananas that looked like real bananas, it may have fooled border agents it may have fooled inspectors but it did not fool trained monkeys.
If there's a double meaning there, and there is, they made a monkey out of our inspection services. It made into the punchline of a joke  what is commonly thought of as the porous border between the United States and Mexico that facilitates narcotics smuggling. The testimony revealed that operatives for the cartel created front companies. Those companies exported cooking oil from Mexico into the United States. The cooking oil trucks were floating in cocaine. Tens of millions of dollars in transactions from drug cartel operatives went through the most worldwide international banking institutions in the planet. The ongoing federal criminal trial is taking place in Brooklyn, NY in the federal courthouse in the Eastern District of New York. Channel 10 news has regular coverage, and tourists flock to the federal courthouse for a glimpse of a trial that is both enlightening and salacious. The trial focuses and highlights the sheer magnitude of narcotics trafficking into the United States.  Seizures of narcotics on the Mexican border totaled over one and one half-million pounds. Seizures of marijuana alone at the US borders total 8.2 million pounds. 32,600 pounds of cocaine, 34,000 ounces of heroin, and 17,600 pounds of methamphetamine. Mexico is the US largest supplier of methamphetamine and marijuana. But as highlighted in the trial, the methods and manner of crossing the border would not be affected by a physical barrier. The cost in human suffering is by most standards immeasurable.
But if measurement be had, the Congressional research service tells us that in 2016 there were an estimated 948,000 individuals, 0.4% of the population 12 years and older uses heroin in United States.