If you are arrested in United States, almost all local police departments and sheriff departments send the name to immigration authorities, known as ICE. If the immigration authorities believe that person does not have legal status to remain in the United States, they issue a detainer. Once your legal issues are resolved, the local authorities will keep you in custody until Homeland Security removes you to federal custody and begins the process, which may ultimately resolve with removal, (deportation). All this may change.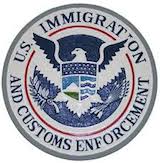 Put on your constitutional scholar hat and take a look at our 4th Amendment and then explore the issue of what is a "detainer." If it's not an arrest warrant and it's not a bench warrant, then it is not enough to deny an individual of their liberty. Immigration violations, unless charged as a crime, are legally sufficient.
A detainer is merely a request. It is not the same as an arrest warrant. Sheriffs and police agencies that refuse to release individuals based on an immigration hold, a detainer, have been sued. According to the Washington Post, Pennsylvania, Colorado, and Oregon have all been successfully sued for wrongfully detaining individuals. Several sheriffs and police departments in those states are now releasing individuals once their criminal problems are resolved even if they have a formal detainer request from Homeland Security. The United States Constitution clearly states that the seizure of a person (that is holding them in custody) requires the filing of charges, or a warrant.
Immigration holds, like a "detainer," is legally none of the above and it has been held to be legally insufficient to keep an individual in custody. Under the interstate compact, and the rules of comity, a detention can only be lawful if it is pursuant to a warrant, which requires a finding of a criminal act. When an immigration hold is issued, it is not an arrest warrant, and therefore has been found legally insufficient to justify keeping in individual in custody. The American Civil Liberties Union in Colorado has been on the front lines of this litigation and has sued successfully. A federal judge in Oregon held that the county violated the Fourth Amendment rights of that individual when they held her with nothing more than a detainer request from the immigration authorities. Criminal defense lawyers in South Florida are gearing up to sue County sheriffs offices and Miami police departments for wrongfully detaining individuals with nothing more than a detainer from ICE.

If someone you know is currently being detained in South Florida for removal from the United States after they have completed their jail or prison sentence, they should contact a South Florida criminal defense attorney to determine if they have a basis for habeas corpus motion to be released.