April 6, 2015 marks the closing arguments in the Boston Bomber case being played out in Federal court in Boston. The Federal criminal trial of Mr. Dzhokhar Tsarnaev, the sole survivor of the pair that is accused of planning, preparing and detonating an anti-personnel destructive device at the finish line at the 2013 Boston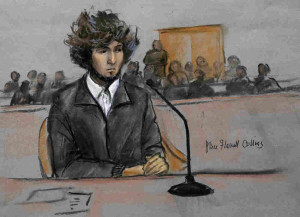 Marathon, is at its finish this week.
Survivors and family members heard the Assistant United States Attorney, Mr. Chkravarty, make his closing arguments. His remarks described a deliberate and well planned attack in retaliation for the perceived harm the two men endured as a result of the U.S. led military actions in Iraq and Afghanistan. The second man, Tamerlan Tsarnaev was killed during his escape.
Some of the Assistant United State's Attorneys closing remarks are as follows: "The evidence here speaks for itself," he said Immediately after that he showed to the jury several still images and a video of the victims before the bomb was detonated. He went on to say the the Tsarnaev brothers knowingly and intentionally targeted innocent civilians including children. Mr. Chakravarty walked over to Mr. Tsarnaev and said while pointing at him, "He thought his values were more important than anyone else's."
Most commentators and observers of the trial agree that the jury can and will convict. There are a total of thirty counts in the Federal criminal indictment. The total number of victims killed is three and 264 people were wounded. The lead prosecutor, Assistant United States Attorney William Weinreb went to great lengths to emphasize that the two brothers were equal partners in their crimes and the law holds them equally liable. The defense attorneys during the trial argued that the surviving brother, Dzhokhar, was duped and brought into the conspiracy by submitting to his brother's overwhelming willpower. The prosecutor's case took over fifteen days of testimony from ninety-two witnesses. The prosecutors case opened with images of the gruesome death of an eight year old child who was watching the finish line of the Boston marathon with his parents. The defense called four witnesses and took a little more than five hours. Defense attorney Clark emphasized in her opening and closing that the dead brother was the driving force and the planner and initiator of all the acts, from the planning to the construction of the bomb.